Calvary Chapel Merritt Island logo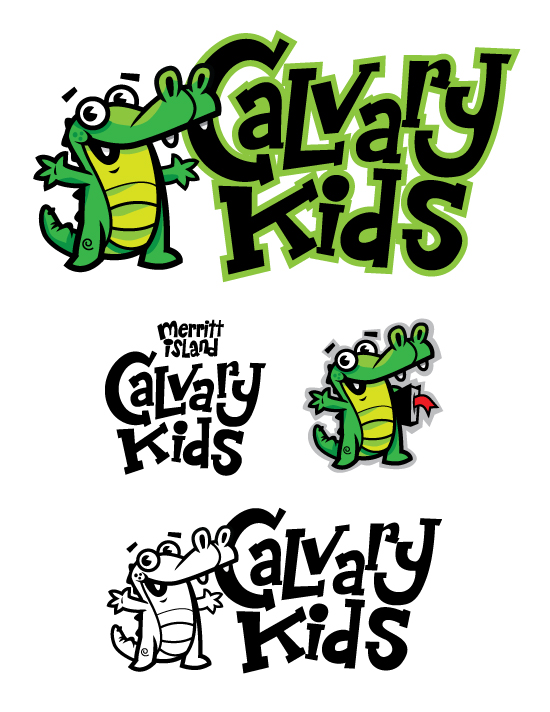 "I really enjoyed working on our Children's Ministry Logo redesign with Drew.  He's the real deal!  It's not easy to find someone who can make custom characters/artwork that appeal to both kids and adults. He has a great style and is a total pro.  He definitely exceeded my expectations." Dan Q – Children's Ministry Director Calvary Chapel Merritt Island
I recently had the pleasure of helping Calvary Chapel Merritt Island in scenic Florida rebrand their kids ministry. As a Calvary Chapel Bible College graduate I was excited to help out. CCMI has some interesting stuff to play off so we tried to narrow down our mascot choices. Ideas that were thrown around were Calvary dove, NASA, Jesus, and local wild life. I think we made the best choice with Al the alligator! He is very versatile and I can see him being used with lots of props and costumes. They type was custom and hand made as well. While there are similar typefaces out there, there is nothing exactly like this hand made work.
When I was first contacted by the church, they weren't sure what to expect. Most churches have a paid or volunteer creative staff. And very few seem to understand or value the need  to go outside that structure to get what they need done. Not every church creative staff is set for every project that comes along. Mascot and branding may look easy, but there is a lot of work that goes into it. And sometimes, it's good to seek more help. That is where I come in. The additional set of eyes that look at the project from the outside. I have often been told by clients they hired me because of the little things. The details and personality I put into each project. Needless to say, I get very blessed and encouraged when I hear that.
The Drawn By Faith series of illustrations is one part of what I do, but I also love design work. A combination of illustration and design becoming "illustrative design" to bring your church/ministry needs to fruition. Please let me know if I can help you or your church with any design needs or if you have questions about the process!